Whatever salespeople learned in 2019, much of it didn't apply in 2020, as the unconventional year changed most industries in profound ways. For electrical distributors, many of those changes were difficult; according to one April survey, the electrical distribution channel diminished 10 percent during the lockdowns at the beginning of the pandemic, with particularly steep declines in metropolitan areas and on the East Coast.
The industry recovered throughout the year, however, and salespeople looking to build on 2020 gains need to recognize the ways that the market has changed. The past 12 months compelled many customers to focus more on the value created by distributors, prompting many in the industry to refine their approach.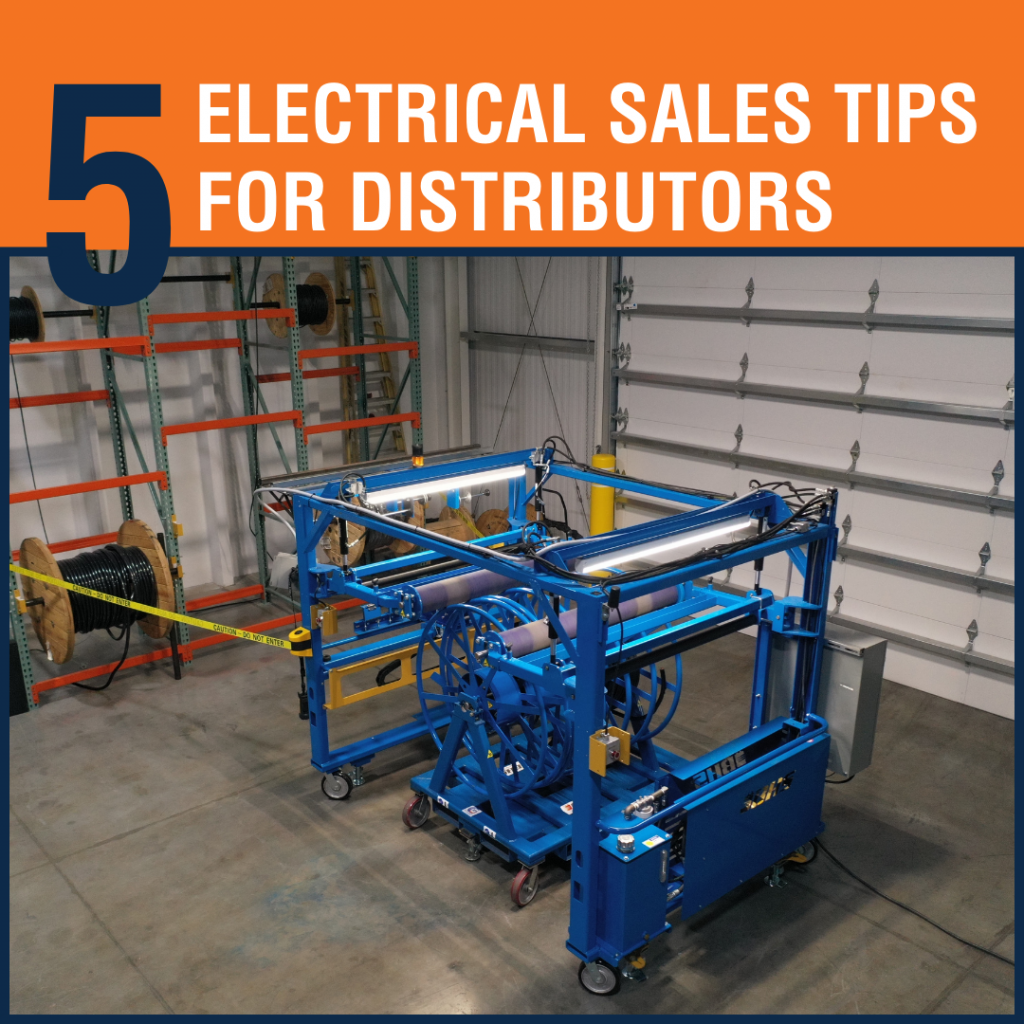 For salespeople, the challenge isn't to completely change course — it's to remember what works. That means following tactics such as:
1. Consider New Value-Added Services
To improve revenue streams, focus on improving customer satisfaction. Best-in-class electrical distributors recognize the importance of value-added services that address customer pain points and offer innovative solutions. This is particularly important for distributors who want to separate their operations from the massive e-commerce markets flooding the market with low-cost (and, in some cases, low-quality) products.
One of the most commonly requested value-added services is wire-cutting to specification, which is rarely available from ecommerce conglomerates. The Parallel Reel Payout (PRP) and Spool Winding Trolley (SWT) allow distributors to offer efficient custom paralleling services for their clients, producing labor-saving custom reels ready for delivery.
The SWT loads reels at one linear foot per second, counting the length to ensure perfect order fulfillment, exactly to spec from BIM data. The customer benefits from less waste and more efficient onsite payout. The SWT is also available with Industrial Internet of Things functionality (the SWT-IIoT model), ideal for integrating into your operation's broader IIoT ecosystem.
2. Remember, Customers Want Solutions
Selling products is difficult — selling solutions is much, much easier. Maintain the right mindset when discussing your range with customers. Rather than promoting the product or service of the month, remember that they're looking for ways to simplify their workflow and make their job sites more efficient.
Customers appreciate a salesperson who can explain the why rather than the how. Services like printing, striping, dyeing, wire-cutting, and paralleling can provide this value, but the customer might not understand the benefits at first. By focusing on the problem that the product or service solves — rather than the specifications or the cost of the service — salespeople can address each customer's needs individually.
3. Recognize the Value of Delivered Solutions
Consider all of the costs that your customer will encounter, not just the price of the products or services on the table. Value-added services and delivered solutions might easily make up for the slightly higher cost of a certain product, particularly if the client has expressed concerns about a particular pain point.
BHS products ideal for delivered solutions include the Parallel Reel Payout Wagon, which features an ergonomic design for transporting high-volume cable reels without (or with) additional material handling equipment. For installation sites, the Parallel Reel Payout Trailer is a turnkey solution that allows electricians to complete multiple pulls and on-site cable paralleling, greatly improving productivity on sites by dramatically limiting the time spent on material handling.
Similarly, the Wire Pull Cart simplifies wire management for up to 3,000 pounds of reels, while the Conduit Carrier Cart and Tilting Elevator Conduit Cart allow for improved handling of conduit in spaces that a forklift cannot reach. The Light Fixture Cart solves a common problem for construction electricians by safely carrying light fixtures in bulk, reducing the amount of lost product and improving efficiency.
As delivered solutions, these products can save customers time while creating a safer, more productive job site. To sell them effectively, salespeople should understand their value to the customer. Don't make assumptions about the math — talk to different departments within the client's company so that you're able to accurately explain how your company's model will offer the best possible value.
4. Give Customers Options for Order Receiving
Customers appreciate flexibility. Electrical distributors can easily provide this flexibility by providing as many options as possible for deliveries, including overnight order receiving. This has become more important in the era of lockdowns; while pickup and delivery are useful options for some customers, others require a distributor that's able to provide fast access to valuable products so that their projects can move forward as soon as the workday starts.
The Will Call Dropbox is a secure steel cabinet with electronic locks on each locker. Users can be authorized for one-time entry, ensuring total security for valuable overnight deliveries. IIoT models can also create timestamped access logs, allowing distributors to provide customers with reviewable information about each order.
5. Use Digital Materials to Help Customers Visualize Your Pitch
Seeing is believing, and customers are more likely to work with a distributor that provides access to high-quality digital materials. That means detailed product brochures with specifications, demonstration videos, and other media that puts solutions front-and-center.
Work with suppliers to create media that showcases your company's solutions effectively, then use those materials when making your pitch. Even if you have great communication skills and a solid rapport with your customers, visual media can go a long way toward explaining concepts and highlighting the benefits of your products and value-added services. Digital showcases are a vital tool, particularly in the age of teleconferences and video meetings — have them ready to go at a moment's notice.
At BHS, we're always available to help dealers make their best pitches. If you need assistance in planning your sales approach, contact our team at 1.800.BHS.9500.