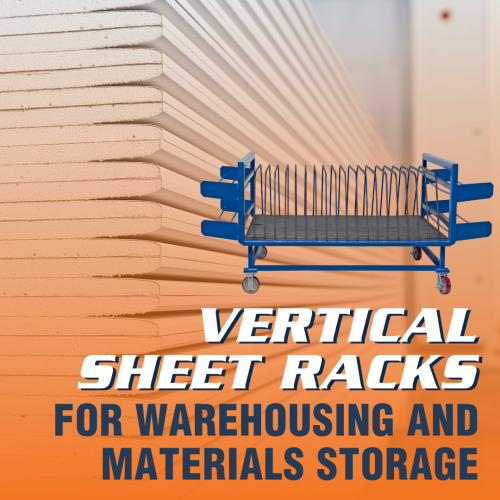 Lumber yards, steel manufacturers, and construction shops have to store large supplies of sheet material. It may be sheet metal, drywall, plywood or other sheet woods, or even plastic panels; the storage hazards remain similar. And where labor and material handling equipment is limited, the safest way to store these items is with a vertical sheet rack.
Alternative storage options are sometimes as simple as stacking sheets on the floor and leaning them against walls. There are both productivity and safety problems with these approaches — and they may even violate OSHA standards. These include:
29 CFR 1910.176(b) - Secure storage. This standard states quite clearly that "storage of material shall not create a hazard." Materials must be "stable and secure against sliding or collapse."

Storing sheet materials by leaning them against walls is likely to violate this regulation. This does not make horizontal stacks safer, however; a single worker can't safely lift such materials from this position, and attempts to do so can lead to back injuries and musculoskeletal disorders.

That last point is also why we don't recommend using horizontal sheet racks, except in applications involving light, easily handled materials or specially designed material handling integration systems.

29 CFR 1926.250 - General requirements for storage. This regulation covers the construction industry, and it's full of standards that argue for the use of vertical sheet racks. Like its counterpart for general industry, 1926.250 requires materials to be "stacked, racked, blocked, interlocked, or otherwise secured to prevent sliding, falling, or collapse."
29 CFR 1910.159(c)(10) - Sprinkler spacing. In addition to other rules for sprinkler systems in workplaces, this standard states that "the minimum vertical clearance between sprinklers and meterial below shall be 18 inches."
This last rule has ramifactions not just for stacks of sheet materials, but for the design of specialty storage racks themselves. They must be carefully designed to avoid reaching within 18 inches of any sprinkler system in the ceiling. This brings us to another question: If vertical sheet racks are the best way to store these materials, what types of these racks are available?
Choosing a Vertical Rack for Sheet Materials
The main question is whether you need a mobile rack or a fixed unit. The advantages of each are clear: A Mobile Sheet Material Rack doubles as a cart, and assists in safe, OSHA-compliant material transfer as well as storage.
Fixed Sheet Material Racks can be built with much higher load capacities, thanks to their stationary construction. They can also be designed to limit floorspace, while Mobile Sheet Material Racks necessariy place some distance between sheets. The added need for stability during movement requires restraint bars at close intervals.
Many applications use rows of tube steel racks; these also require multiple restraint bars, and tend to take up a larger footprint than options like Sheet Material Racks from BHS. The BHS models stand out due to several unique features that offer the greatest combination of safety, ease of access, and low storage footprint:
They're available in multi-tiered models to utilize vertical space rather than expand the footprint. They're even stackable in some facilities. Remember to measure distance from sprinkler systems, including material overhang, before making a decision on a multi-level racking system.
Sheet Material Racks from BHS feature an angled back and deck that keep load weight from nearing the forward edge. This gives users the handling advantages of wall-leaning sheets without the risk of sliding or collapse.
Decks are lined in anti-skid rubber. Along with the unit's carefully engineered angles, whis keeps contents stable and still, even with low-friction materials like glass, polished stone, and plastic.
Storage techniques aren't just about complying with OSHA standards, of course. They contribute in direct ways to a facility's overall productivity rate, as well. An adequate racking system must be completely dependable, designed for tough environments, and built for easy access to contents with a minimum of powered equipment — all of which describes Mobile Sheet Material Racks and stationary Sheet Material Racks from BHS, Inc.
To learn more about vertical sheet racks from BHS, contact our sales team at 1.800.BHS.9500.