Every retailer has a peak season, and distribution centers are no different. Certainly, the peak can differ between one outlet and another — an office-supply store may experience peak season during the final days of the summer, when parents stock up for back-to-school season, while most general ecommerce DCs brace for the winter holidays.
Whenever peak-to-average order ratios soar, it's never too early to start preparing. The waning days of summer are the perfect time to get the DC ready for a midwinter rush.
Preparation for this swell in volume should take place on every level, from staffing to pick-rate optimization to machine maintenance. For logistics suppliers that run electric forklifts, it is time to get the battery room in performance shape; after all, if your motive power sources fail, the entire operation comes crashing down.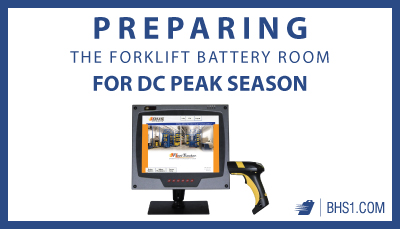 We'll look into peak-season prep for shipping/receiving areas in the second of this two-part blog series. For now, though, here are five ways to prepare the DC forklift battery room for peak season:
Make sure all planned maintenance is up to date.

You know you need to check battery electrolyte levels and keep battery cases clean. But when sticking to these standard maintenance schedules, it can be easy to overlook less-frequent — but very important — planned maintenance tasks for batteries and battery room equipment.

Find planned maintenance schedules for all BHS battery-room equipment here.

Upgrade lift truck battery fleet management systems.

Industry magazine Modern Materials Handling reports that only about a fifth of fleet owners collect and use data on battery management. That can lead to both over- and under-utilization, burning batteries out long before their time.

Implement a battery fleet management system such as Fleet Tracker or the simple Intelligent Battery Organizing System (iBOS) to monitor batteries, generate detailed reports, and right-size the fleet.

Invest in single-point watering systems.

When forklift operators are in the middle of an order-picking rush, they don't have time to manually water batteries. That's when the Integrated Watering System (IWS) becomes indispensable. The IWS attaches to system stands, automatically filling cells on completion of the charge — hands-free.
Summertime preparation for DC peak season can give retailers and logistics providers the competitive edge they'll need to ensure successful holiday shipping schedules. It's hard to overstate the importance of this peak season; according to trade publication Material Handling & Logistics, some operations generate up to three quarters of the entire yearly revenue in the two or three months surrounding the holidays.
For tips on improving efficiency in the shipping/receiving room in advance of the busy winter shipping season, see part two of this series, coming soon.
References
Bond, Josh. "Lift truck battery management delivers staying power." MMH. Peerless Media LLC, 13 Mar. 2018. Web. 10 July 2018.
Sibley, Mark. "Compete: How to Prep for Peak Season." MHLNews. Informa, 17 Oct. 2013. Web. 10 July 2018.