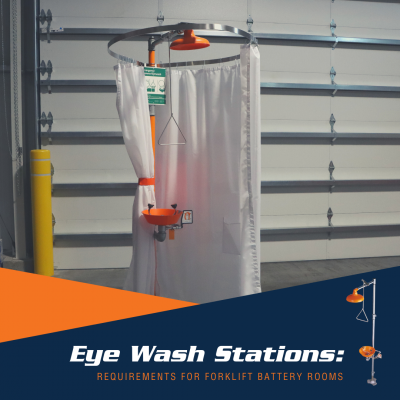 Safety is a particularly important consideration in the battery room, where employees regularly work with high-voltage electricity, corrosive materials, and heavy-duty equipment — all of which present serious hazards. Investments in battery room safety are vital for preventing and responding to accidents, and eye wash stations are especially important for accident response.
OSHA's requirements for battery room eye protection fall under several standards in 1926 Supbart K:
441(a)(5) - Face shields, aprons, and rubber gloves shall be provided for workers handling acids or batteries.
441(a)(6) - Facilities for quick drenching of the eyes and body shall be provided within 25 feet (7.62 m) of battery handling areas.
Additionally, eye wash stations are addressed in OSHA 29 CFR 1926.50(g):
Where the eyes or body of any person may be exposed to injurious corrosive materials, suitable facilities for quick drenching or flushing of the eyes and body shall be provided within the work area for immediate emergency use.
So, we've got some clear direction here — OSHA requires battery room eye protection and "suitable" flushing stations. The logical follow-up questions are a bit more difficult to answer: What makes for a well-outfitted eye wash station? What should employers know when choosing the station's location? Does the station require regular maintenance?
ANSI Standards and Battery Room Eye Wash Stations
In a May 5, 2004 interpretation letter, OSHA clarified its requirements for emergency eye washes and showers. As is the case with many other regulations, OSHA defers to ANSI standards for eye wash and shower equipment. While ANSI doesn't have OSHA's regulatory power, complying with ANSI standards may reduce the risk of a violation. (Because occupational regulations vary significantly from state to state, you should consult with a qualified safety professional to determine appropriate standards for your facility).
ANSI Z358.1-2004 is the standard that covers emergency eye wash equipment. Established in 1981, the standard has been modified five times, most recently in 2014. Some key components of ANSI Z358.1-2004 are detailed below.
Note that the standard may be updated in the future, and while this information is current as of June 2020, employers should consult the latest ANSI standards or work with a qualified safety professional to ensure compliance.
Eye Wash Stations
Per the 2014 update, eye washes must deliver tepid water at a range of 60-100 degrees Fahrenheit. The standard also sets requirements for permanent eye wash stations, including the minimum pressure during operation, corrosion resistance, and the height of the fluid flow pattern. If a unit combines a drench shower and eye wash or face wash unit, both units must be operable at the same time.
Other considerations:
Eye wash stations must be accessible within 10 seconds. Safety professionals generally interpret the "10-second rule" as equivalent to 55 feet. The station should be on the same level as the hazard (in other words, it must not require ascending or descending a flight of stairs). The travel path to the wash station should be completely unobstructed.
Drench showers and eye wash stations must be identified with a highly visible safety sign. They should be installed in a well-lit area.
If permanent wash stations are equipped with shut-off valves, the employer must establish provisions to prevent an unauthorized shut-off. That typically means employing tag-outs or lock-outs.
Stations should have dust caps to prevent contamination. The outlet heads, in particular, should be shielded from airborne contaminants.
Eye wash units should be capable of being activated in one second or less.
Stay-open ball valves must be used in order to allow hands-free rinsing for workers.
Employers should choose wash stations specifically designed to aid in ANSI compliance. The BHS Shower Eye Wash (SEW-500) is a convenient option that minimizes floor space while packing in key features like a self-regulating flow control, float-off dust cover and filter, and simple pull-rod operation. Add the optional privacy curtain which not only limits splashing but also allows disrobing of contaminated clothing in private.
Personal Eye Wash Kits
Plumbed-in emergency eye wash stations are ideal for battery rooms, but plumbing isn't always feasible — especially when hazardous materials (e.g. battery electrolytes) are handled at multiple locations. Some employers assume that personal eye wash kits are an effective alternative; unfortunately, personal units aren't enough to maintain compliance.Personal eye wash units that cannot provide 15 minutes of flushing are considered supplemental equipment, so they cannot be used as a replacement for a flushing station. However, ANSI 358.1-2009 standard notes that "a personal wash unit may be kept in the immediate vicinity of employees working in a potentially hazardous area. The main purpose of these units is to supply immediate flushing." After immediate flushing, workers should move to a plumbed or self-contained eye wash station and continue flushing their eyes for 15 minutes.
In other words, while personal eye washes aren't a replacement for an eye wash station or appropriate protective gear, they're helpful for limiting hazards when workers are outside of the battery room. Any wash station that provides 15 minutes of flushing can comply with ANSI standards, and when plumbing isn't available, employers should consider investing in mobile stations with sufficient water tanks.
The BHS Portable Eye Wash (PEW-700) uses a gravity flow mechanism to provide 0.4 gallons per minute of flushing solution through dual spray heads; the 16-gallon tank system is completely self-contained, and the included bacteriostatic additive (PEW-REFILL) preserves the eye wash solution for up to six months. Accessible, visible, and movable, the PEW-700 exceeds the requirements of ANSI Z358.1-2004 and is ideal for park-and-charge applications.
Training and Maintenance
Remember, safety training is a critically important part of compliance. All employees should be trained in the proper use of eye/face washing stations. The stations should be checked weekly; standalone units should be refilled on a regular basis, while plumbed-in units should be operated weekly to flush out standing water and to ensure operability.
Employers need to create an effective response plan for when accidents occur. This plan should ensure that employees receive adequate care as soon as possible after the accident. Additionally, employers should take steps to keep other employees safe following an accident — in particular, the wastewater from the wash station shouldn't create another hazard. In some applications, that might mean adding drainage that leads to a tank for later neutralization.
An effective compliance plan starts with high-quality equipment. BHS makes OSHA and ANSI compliance much easier with the Battery Emergency Station (BES-1) kit and Shower Eye Wash (SEW-500) station. The BES-1 includes the Battery Emergency Stand, Portable Eye Wash, Protective Kit, and Spill Kit Cabinet, which can address hazards in a variety of battery charging applications. The SEW-500 is an ideal plumbed-in option. Both allow workers to wash for 15 minutes and meet or exceed ANSI recommendations.
By taking precautions, employers and workers can prevent these types of accidents from occurring in the first place — but as every manager knows, the safest course of action is to prepare for the unexpected. BHS eye wash equipment is essential for every facility that uses lift trucks (and helps to ensure regulatory compliance while keeping costs in check). To learn more, contact the BHS sales team at 1.800.BHS.9500.