The Industrial Internet of Things (IIoT) connects machinery and software platforms for predictive analytics, automated reporting, condition-based maintenance, and other Big Data-related tasks. So far, most studies of the IIoT have focused on manufacturing and business processes; this post is about how IIoT technology applies to the supply-chain challenge of last-mile delivery—which is to say, this is a post about smart parcel lockers.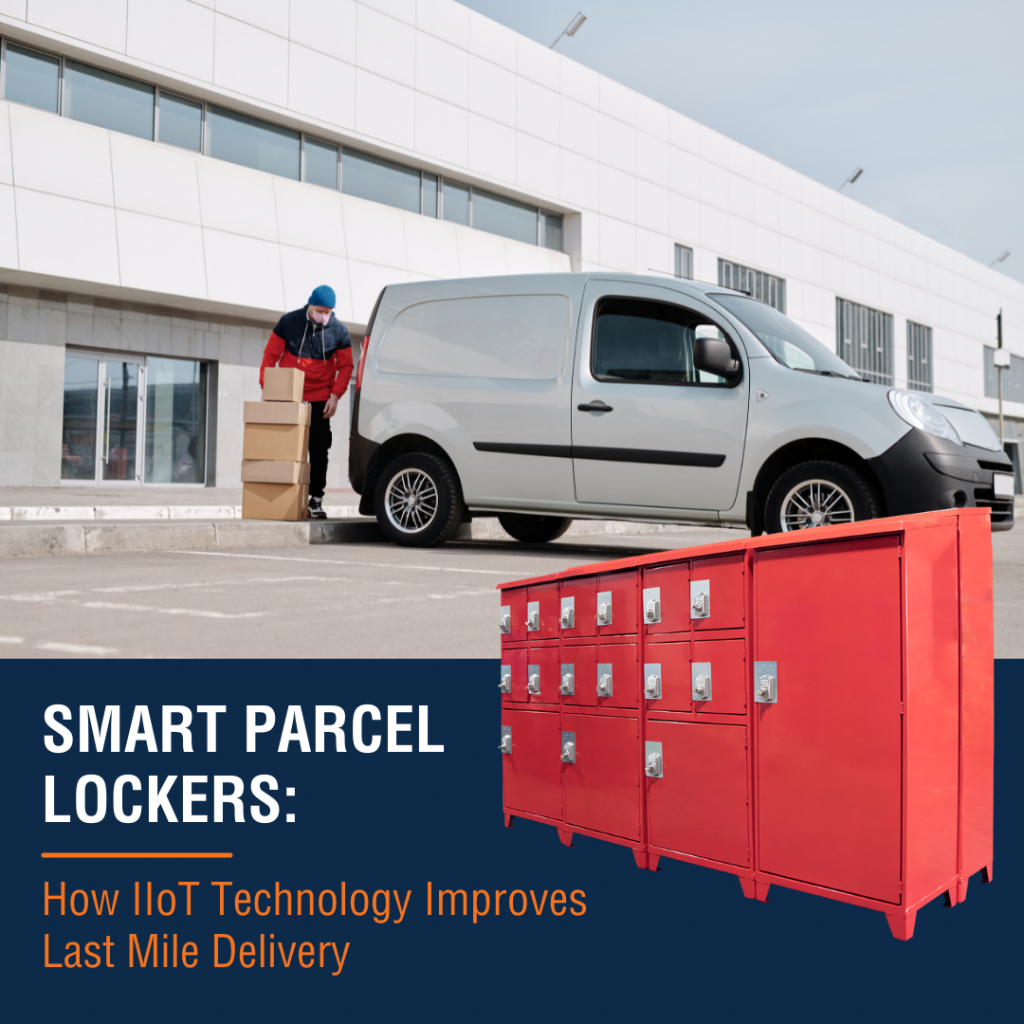 Parcel lockers are secure storage units used for asynchronous delivery and retrieval. Smart parcel lockers add some degree of IIoT connectivity to this process, enabling powerful new capabilities such as:
Mobile access authorization
Digital lock control, as with phones, RFID chips, and other types of device-based verification
Automated reporting of access logs and more
Greater visibility into smart parcel locker use and package tracking
Reduction of costs and other challenges associated with last-mile delivery
Last-mile delivery has proven an enduring challenge for shippers. In one 2020 survey, logistics providers listed their greatest last-mile frustrations:
35 percent said their greatest challenge was reducing costs
21 percent were concerned with consistently delivering orders on time
16 percent were frustrated with last-minute delivery changes
14 percent said they struggled to align warehousing and logistics operations
Smart parcel lockers can help to resolve all these issues. To understand how, we need to discuss exactly how smart parcel lockers work.
Understanding Smart Parcel Lockers as a Delivery Tool
For many smart parcel lockers, IIoT capabilities come from locks themselves. Standard electronic locks are helpful—they ensure authorized access with auto-generated single-use passcodes—but they don't connect to the internet, so can't be said to provide the benefits of the Industrial Internet of Things. That changes when you add connectivity to digital locking devices.
These smart locks use sensor-reading technology to open in the presence of RFID cards, digital key fobs, or other device-based access tools. Even more powerful, they integrate with dedicated smartphone apps, allowing shippers and/or receivers to open lockers with mobile devices. Additionally, these locks create timestamped audit trails, ensuring shippers and their customers have records of who opened the locker and when.
Here's an example of how that can assist with last-mile delivery for an e-commerce seller.
First, the shipper or logistics provider can station smart parcel lockers at a centralized location, whether that's at an apartment complex, outside a business, or even at community centers like grocery stores or government buildings.
Deliverers simplify their routes by visiting these centralized pick-up locations, rather than going door-to-door for every delivery.
By integrating smart lock software with shipping systems and/or CRM applications, shippers can automate notifications, letting customers know their orders are ready for pick-up without costly manual labor.
At this point, the shipper has several options. They can send single-use passcodes via email, SMS, or dedicated app. Or they can provide access based on the user's device.
Either way, once the user retrieves their package, the smart lock's audit trail can send a signal marking the item delivered—all through automated software. But smart parcel lockers aren't just helpful for business-to-consumer companies like e-commerce sellers. They also provide powerful benefits for business-to-business distribution, ensuring on-time delivery of construction goods, raw manufacturing materials, or electrical shipments, just to name a few.
A Smart Parcel Locker Designed for Industrial Distribution
The IIoT-enabled Will Call Dropbox from BHS is a smart parcel locker designed specifically for industrial shipments. They're bigger than consumer models; they're constructed from heavy-duty steel for greater security; and they're completely weather-proof, thanks to bolt-down stands, sloped roofs, and a weather-proof powder coating.
Will Call Dropboxes were originally designed for electrical wholesalers, with extra-long compartments in the base to store shipments of conduit. But with heavy duty construction and custom designs available, these units are ideal for virtually any industrial material. Learn more about this B2B smart parcel locker here. For more information about storage units that can simplify last-mile delivery for industrial material distributors, call the BHS sales team at 1.800.BHS.9500.