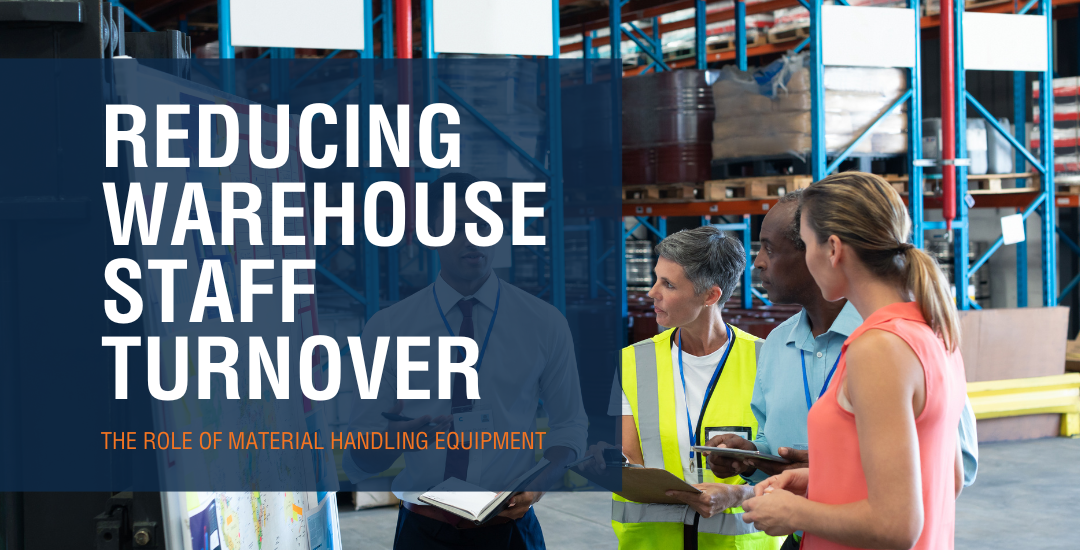 For warehouses, labor constraints remain a major concern. In 2021, annual warehouse turnover rates reached 49%, and they didn't improve much in 2022.
According to calculations from Kane Logistics, replacing a single warehouse associate costs $8,500 on average. That figure may be low, as it doesn't include estimates of lost productivity (or the impact that unreliable throughput can have on brands).
The simple solution for staffing a warehouse is to pay workers higher salaries, but more money isn't always the answer — or, at least, not a complete answer.
For starters, the workforce is aging, and warehouses will need to attract new workers from Generation Z to compete in the future. Money is important to those workers, but they'll also want positions that provide room for career growth.
Most importantly, they want to work safely: In one survey, 30% of Gen Z workers said that they'd turned down job opportunities or switched careers because of on-the-job risks.
How Ergonomic Equipment Creates a Worker-First Warehouse
Many repetitive, stressful tasks can be made easier with appropriate material handling equipment (MHE). Ergonomic equipment can turn a "dusty, old warehouse" into a vibrant environment where workers stay engaged.
That may be key for attracting talent. Many workers perceive warehouse jobs as physically intense — and generally speaking, they're not wrong.
But the right material handling equipment can make a difference:
Scissor Lift Tables can be employed to create variable-height workstations. Tabletop attachments can be used to match the equipment to the work, improving efficiency and limiting stress.
Pallet Carousel and Skid Positioners can eliminate ergonomic hazards for pallet-building and unloading tasks. 360-degree turntables prevent repetitive bending and repositioning, bringing the task to the worker.
Bin Dumpers can simplify lifting and dumping tasks, reducing exposure to chemical hazards and eliminating heavy manual lifting.
Of course, finding the most effective MHE will require a review of your warehouse or fulfillment center's workflow — but investments in material handling equipment generate quick returns, particularly when considering the value of improved worker retention.
When employers invest in MHE, they show that they value their workforce. In addition to the enormous productivity benefits, appropriate MHE reduces on-the-job injuries and leads to higher job satisfaction.
Related: Retaining Warehouse Staff with Ergonomic Equipment
IIoT Equipment Reduce Downtime and Keep Workers Engaged
While any ergonomic equipment can impact warehouse turnover, MHE that utilizes the Industrial Internet of Things (IIoT) may be especially helpful in this regard.
Gen Z is the first generation to come of age in a digital world. IIoT solutions are designed and built for that reality, and they're essential for tracking and improving warehouse productivity.
IIoT equipment can enhance reporting efforts and enable innovation. That's crucial for keeping younger employees involved in their work.
Solutions like the IIoT-Integrated Operator Aboard Battery Extractor (BE-IIOT) and IIoT-enabled Spool Winding Trolley (SWT-IIOT) automate repetitive, potentially dangerous tasks. These tools also capture data points that can be used to operate more efficiently.
And by pairing advanced data collection with artificial intelligence, warehouses can streamline key processes — and give human workers the autonomy they need to focus on new ways to achieve key outcomes. 
Related: BHS Case Study: BHS, Inc. Improves Manufacturing Efficiency with Assembly Work Stations
Building an Ergonomic Approach to Worker Retention
In the warehousing industry, less strain doesn't mean less work. Ergonomic equipment addresses a crucial concern for all workers, and it's especially crucial for attracting younger employees.
Organizations that invest in ergonomic, IIoT-enabled equipment have an edge over their competitors. They can create productive workflows based on real data without forcing workers to perform difficult, repetitive tasks. A technology-first approach gives workers more reasons to take — and keep — warehouse jobs.
At BHS, we recognize the extraordinary value of custom ergonomic equipment. To learn about our custom solutions for warehouses and fulfillment centers, call 1.800.BHS.9500.