Originally, HDPE pipes were developed to carry water in municipal systems and industrial facilities—but in the 50-plus years since this material was developed, HDPE conduit has also become a valuable ducting option for telecommunications and electrical cables in outdoor, underground applications. That makes HDPE conduit a valuable material for utility and infrastructure electricians as well as plumbing installers.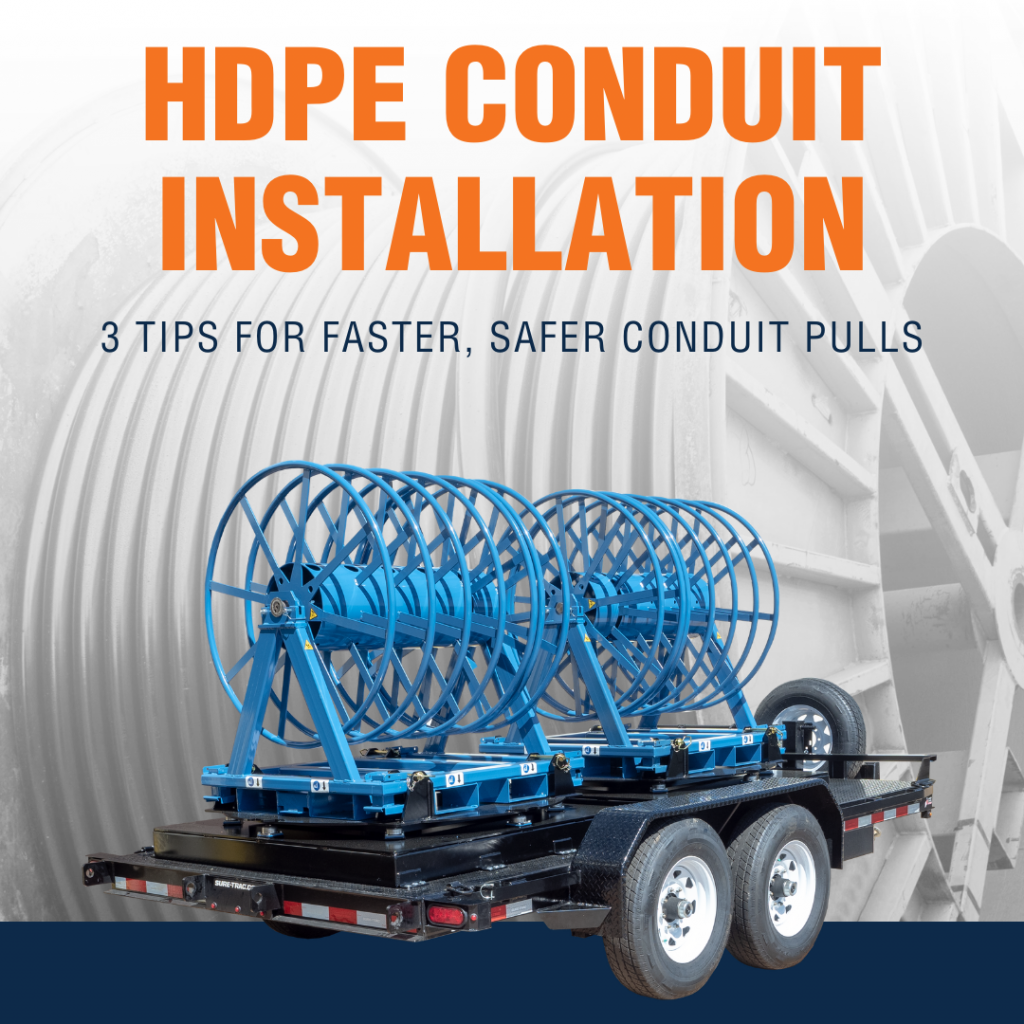 So what is HDPE conduit? It's piping made of high-density polyethylene, a plastic resin with significant advantages for use in geoexchange systems, plumbing infrastructure, and cable ducting. Installers choose HDPE pipe because it is:
Resistant to moisture and crushing forces; i.e., suitable for burying underground
Tough and durable
Easy to join with heat fusing
Highly flexible, so it can be shipped on reels and pulled like cable
Bendable for curved installations
Freeze-resistant for outdoor use
Despite these advantages, electricians working with HDPE for the first time may encounter a few challenges during the installation.
HDPE conduit is shipped on reels, and may retain some "coil memory," so straightening it can be difficult.
Bulk reels require special material handling equipment and strategies—and create logistical difficulties for distributors and end-users alike.
If you pull too hard, you risk damaging the piping.
Luckily, solutions are available. Follow these tips to ensure every HDPE conduit installation goes as smoothly as possible:
1. Determine the safe pull strength (SPS) for HDPE conduit.
One of the advantages of HDPE conduit is that it's flexible—but that also means pulling stress can stretch the pipe, in extreme cases, to the point of tearing. To avoid damaging product, keep pull tension beneath the SPS for the conduit type (and external temperatures). The Plastics Pipe Institute (PPI) offers a helpful Technical Note to calculate SPS for HDPE conduit, and it's available for free here.
Use this document to determine the maximum pull strength that's likely to avoid damage to your particular style of HDPE conduit, and keep tension beneath that limit during the pull. Approaching the SPS without going over can also help with the issue of coil memory, pulling conduit straight as you drop it into the trench.
2. Limit reel-handling at the job site with a multi-directional reel trailer.
Increasingly, conduit distributors are offering delivered solutions to their customers, shipping materials on ready-to-use material handling equipment. For bulk orders of HDPE conduit, distributors should offer fully loaded Parallel Reel Payout Trailers (PRP-TRL). These are truck trailers between 14 feet and 24 feet, topped with two or three Parallel Reel Payouts (PRP) on 360-degree swiveling turntables.
Each Parallel Reel Payout carries up to 5,000 pounds, with flexible conduit loaded onto steel reels. Distributors can load each PRP with multiple types of conduit and/or cable by choosing different reel widths. Each of these PRP units can swivel to face any direction. That allows users to park the trailer in a central location, then pull conduit and cable to different installation routes. The distributor can ship the whole job's order on a single trailer with a single truck while the end-user limits reel-handling—and the ergonomic risks associated with the task—at the job site. That's the strength of a delivered solution like the Parallel Reel Payout Trailer.
3. Use ergonomic lifting equipment when accessing utility trenches.
HDPE conduit is commonly used in utility applications, which may have pre-existing utility trenches. To access these trenches, workers often use a simple hook, bending and lifting to remove the trench lid. This task heightens the risk of developing a musculoskeletal disorder; workers must repeat the bending/lifting motion for many trench lids to expose the whole run, and these lids may be concrete or steel, exceeding limits recommended by the National Institute for Occupational Safety and Health's Revised NIOSH Lifting Equation.
Specialized material handling equipment can reduce the risk. The BHS Trench Lid Lifter (TLL-300) is a levered tool that allows users to lift by pressing on the fulcrum/handle, rather than bending and pulling, as with a hook. An adjustable-length handle keeps the unit centered in the operator's ergonomic power zone, limiting wear on muscles and soft tissues.
With the right knowledge, equipment, and material handling strategy, installers can improve safety and reduce costs while working with HDPE conduit. For more information about delivered solutions for electrical wholesalers and material handling equipment for electricians, contact the BHS sales team at 1.800.BHS.9500.