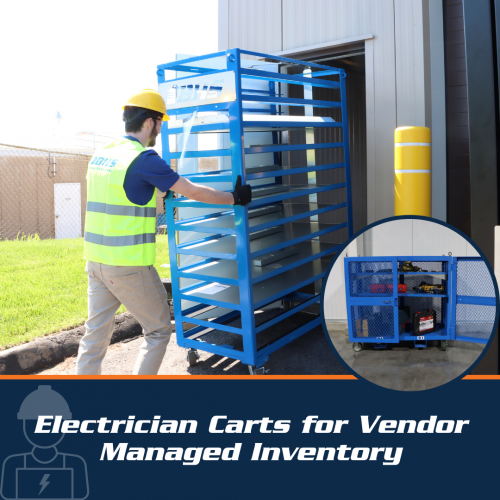 Most of the electrical wholesalers in the United States are small businesses, typically with fewer than 50 employees. But major online retailers are also making a play for the industry. In one recent survey, 33 percent of electrical material distributors said that the greatest threat to continued success is Amazon Business. As large, online sellers increase their share of the electrical wholesaling sector, independent operations have one key weapon with which to fight back: value added services.
Amazon can't recommend the best type of conduit for a job. It won't develop personal relationships with local electrical contractors. And it's unlikely to offer a sales model that saves electricians time, money, and effort. Vendor managed inventory (VMI) may become the key reason a client chooses the small, local operator over free shipping from the major global players.
Vendor managed inventory requires a wide selection of electrician carts for shipping and material handling. That's what we'll focus on in this article, but first, let's discuss the VMI sales model and how it can benefit electrical contractors and, therefore, their local wholesalers.
How Does Vendor Managed Inventory Work as a Replenishment-on-Demand Model?
Vendor managed inventory is a sales model in which the distributor sends the contractor all the materials they could possibly need for a job, and more — then charges only for what the customer uses. It provides self-service replenishment on demand. On a data cable installation, for instance, that could include Category 5 and Category 6 wire, conduit, power tools, hand tools, hardware — and the electrician carts the contractor will use for material handling in the field.
This model offers a number of benefits to the electrical contractor:
Vendor managed inventory prevents waste. Contractors are only charged for what they use, and they're provided with more than they should need, so there's no over-buying prior to the job.
It saves paperwork on the front-end of the job. Without vendor managed inventory, contractors have to plan material requirements carefully, then issue purchase orders for each component. To avoid running short, they often order extra, then have to eat that cost at the end of the job.
This sales model prevents delays at the jobsite. Thrifty contractors may not over-order under the traditional sales model — but that creates the risk of a mid-job shortage. Then they'd have to issue a new purchase order and wait for the distributor to process and deliver the supplies. When every second counts, that sort of delay is unacceptable.
Shipping on material handling carts provides a complete delivered solution. Without vendor managed inventory, electricians have two material streams to worry about: The components they need for the installation, and the material handling equipment they'll need to move those items throughout the job site. With VMI, contractors don't have to own, store, and maintain their own material handling fleets. Items are shipped ready to roll on the appropriate electrician carts.
Because of the importance of electrician carts to a VMI sales model, it's helpful to consider the types of material handling carts distributors should provide, as well as how each of these utility carts can improve safety and productivity while installing electrical systems.
5 Essential Electrician Carts for Vendor Managed Inventory
Ideally, a VMI shipment compromises a complete delivered solution. That means distributors will need a fleet of carts that can handle any electrical component or tool. Additionally, electrician carts should include the following features:
Heavy duty construction. Carts that are constructed of steel with a scratch-resistant powder coating typically provide the strength and durability required for heavy electrical materials and tools.
High quality casters. Electricians need to move material throughout the jobsite, and that requires casters that allow the cart to roll smoothly when traveling. Look for a combination of two fixed and two swiveling casters; this arrangement allows for tight turns and excellent maneuverability along with dependable straight-line travel.
Sized for the job. Make sure cart dimensions match the application. If you'll be traveling through standard doorways or narrow aisles, choose slim-profile carts that measure less than 32 inches across or less.
Compatibility with material handling equipment. While all electrician carts can roll, it's often helpful to be able to load them onto a forklift or lift them to upper stories with a crane. Many BHS Electrical Material Carts include fork pockets and lifting eye bolts for this reason.
These features are available on the whole line of BHS Electrical Material Carts, each of which makes a valuable addition to a VMI program. Here are five of the most important BHS carts electrical wholesalers can use to provide vendor managed inventory for any job:
With a combination of these five types of electrician carts, electrical wholesalers can start a VMI program that will save electrical contractors time, improve their productivity, and reduce waste. As replenishment on demand becomes the prevailing supply chain strategy across industries, giving your customers the chance to use what they need without constant re-ordering is a powerful incentive.
Vendor managed inventory using electrician carts that are designed for the job will give independent electrical wholesalers the competitive edge they need to thrive — no matter what the online B2B superstores have to say about it.