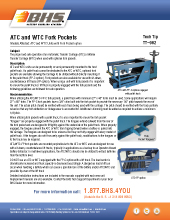 Models Affected: ATC and WTC Units with Fork Pocket option
The proper and safe operation of an Automatic Transfer Carriage (ATC) or Walkie Transfer Carriage (WTC) when used with optional fork pockets.
Description:
ATC and WTC units can be permanently or semi permanently mounted to the host pallet truck. If a pallet truck cannot be dedicated to the ATC or WTC, optional fork pockets are available allowing the Carriage to be utilized without directly mounting it to the pallet truck (FP-C option). Fork pockets are also available for use with sit-down, counterbalance lift trucks (FP option). When using a unit with fork pockets it is important to ensure the pallet truck or lift truck is properly engaged with the fork pockets and the following guidelines are followed for safe operation.
Recommendation:
When utilizing the ATC/WTC-FP-C fork pockets, a pallet truck with minimum 27" x 48" forks must be used. Some applications will require 27" x 60" forks. The FP-C fork pockets have a 3/8" shim built into the fork pocket to provide the necessary 1/4" pitch towards the rear of the unit. The actual pitch should be verified with each truck being used with the carriage. The pitch should be verified with the truck partially raised so that any fork deflection or linkage wear is accounted for. Additional shimming must be added as required to achieve a minimum 1/4"pitch.
When utilizing fork pockets with a pallet truck, it is also important to ensure the fork pocket "tongues" are properly engaged with the pallet truck. The tongues extend outward from the rear of the fork pocket and are designed to fit tightly against the underside of the pallet truck. When properly engaged, the tongues prevent the ATC or WTC from tipping forward when a battery is pulled into the carriage. The tongues are designed to be universal but may not fully engage with every model of pallet truck. If the tongues do not fit securely against the pallet truck, modifications to the tongues or to the truck may be required.
ATC/WTC-FP fork pockets are mounted perpindicular to the ATC or WTC and are designed for use with sit-down, counterbalance lift trucks, typically in applications as a backup to an Operator Aboard Battery Extractor. In multilevel applications, the ATC/WTC should only be utilized to extract batteries from the bottom level.
DO NOT use an ATC or WTC equipped with the FP-C option with a lift truck. The load center is dramatically increased and truck capacity is decreased accordingly. A dangerous load shift can occur when handling a battery which can cause a possible loss of the battery and/or ATC/WTC and possible tip-over of the lift truck
Detailed installation instructions are included in the manuals supplied with each new unit. Replacement manuals are also available. Contact the BHS Tech Support Department or your local BHS Dealer for more information.