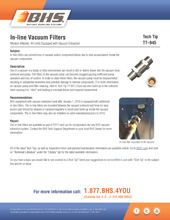 Models Affected: All units equipped with vacuum extraction
In-line Vacuum Filters Ease Maintenance
Description:
Use of vacuum extraction in a dusty or dirty environment can result in dirt or debris being drawn into the vacuum hose, solenoid, and pump. Felt filters in the vacuum pump can become clogged, causing inefficient pump operation and loss of suction. In order to clean these filters, the vacuum pump must be disassembled, resulting in substantial downtime and potential damage to internal components. (For more information on vacuum pump and filter cleaning, refer to Tech Tip TT-927.) Dust can also build up in the solenoid valve, causing it to "stick" and leading to eventual failure and required replacement.
In-line vacuum filters can prevent loss of vacuum suction and/or component failure due to dust accumulation inside the vacuum components – without having to disassemble the vacuum pump for cleaning and replacement.
Recommendation:
BHS equipment with vacuum extraction built after January 1, 2010, is equipped with additional in-line vacuum filters. The in-line vacuum filters are mounted between the vacuum solenoid and hose for easy access and should be cleaned or replaced regularly to avoid dust build-up inside the vacuum components. The in-line filters may also be installed on units manufactured prior to 2010.
Repair:
The in-line vacuum filters are available as part # P0111 and can be incorporated into any BHS vacuum extraction system.
Contact the BHS Tech Support Department or your local BHS Dealer for more information about in-line vacuum filters.