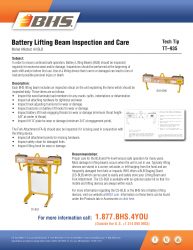 Models Affected: All Battery Lift Beams
In order to ensure continued safe operation, Battery Lifting Beams (BLB) should be inspected regularly for excessive wear and/or damage. Inspections should be performed at the beginning of each shift and/or before first use. Use of a lifting device that is worn or damaged can lead to loss of load and possible personal injury or death.
Description:
Each BHS lifting beam includes an inspection decal on the unit explaining the items which should be inspected daily. Those items are as follows:
Inspect the wood laminate load members for any cracks, splits, indentations or de-lamination.
Inspect all attaching hardware for tightness and wear.
Inspect hook adjusting trunnions for wear or damage.
Inspect load pins on battery lift hooks for wear or damage.
Inspect battery lift hook engaging throats for wear or damage (minimum throat height- 5/8" at center of throat).
Inspect lift "A" plate for wear or damage (minimum 3/4" at engagement point).
The Fork Attachment (FA-6) should also be inspected if it is being used in conjunction with the lifting device.
Inspect all attachment points for missing hardware.
Inspect safety chain for damaged links.
Inspect lifting hook for wear or damage.
Recommendation:
Proper care for the BLB and FA-6 will ensure safe operation for many years. Most damage to lifting beams occurs when the unit is not in use. Typically lifting devices are stored in a corner, set aside, or left hanging from the hoist and are frequently damaged from falls or impacts. BHS offers a BLB Staging Stand (CS-BLB) which can be used to easily and safely store your Lifting Beam and Fork Attachment. The CS-BLB is available with an optional caster kit so that it is mobile and lifting devices are always within reach.
For more information regarding the CS-BLB, or the BHS line of battery lifting devices, visit our website at BHS1.com. Information on these items can be found under the Products tab in Accessories or click here.