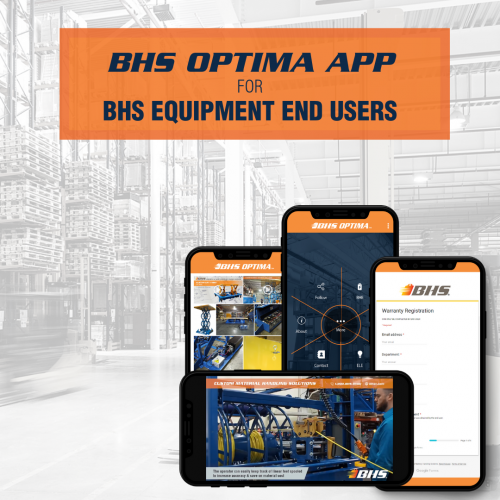 The relationship between BHS and supporting the end user doesn't end with a product delivery. In fact, that's only the beginning. BHS invests heavily in support and training for all users of its products for the entire service life of the equipment.
That relationship between end-user and manufacturer just got a lot simpler. Introducing BHS Optima, a mobile app that provides a one-stop for all things BHS. From this single, easy-to-use interface, BHS customers can access service resources and make direct contact with the BHS Technical Support Group, 24/7.
Service resources available on BHS Optima include the following:
Users may register their BHS Products with the manufacturer. This gives Technical Support detailed information they can use to get help with service calls, meeting your goals faster. More importantly, registering the product enrolls owners in the BHS Manufacturer's Warranty; no more paper forms to fill out.
Operational videos illustrate correct product usage. It isn't always easy to learn all you need to know about industrial equipment from an owner's manual. Clear, professionally produced videos show owners BHS equipment in action.
Complete Operator Daily Checklists digitally. Like any piece of heavy equipment, BHS products often require operators to complete a daily checklist before use. Previously, these checklists were transmitted the old-fashioned way — paper and a clipboard. With BHS Optima, employers can supply tablets or company phones, allowing workers to complete these Daily Checklists digitally, with instant transmission.
Access Planned Maintenance Inspection Reports. In addition to the Daily Checklists, responsible machine usage involves periodic Planned Maintenance Inspections. BHS Optima places the pre-generated Inspection Report at the user's fingertips, no matter which model of BHS product they use. Complete the report on a tablet or phone, then submit it to the appropriate parties with a single click.
Sign up for BHS Service School through the app. Several times a year, BHS offers exclusive training through its BHS Service School. This three-day clinic provides both in-classroom and hands-on learning about how to best service BHS Operator Aboard Battery Extractor Systems. Company mechanics or battery room operators can sign up to attend the next available Service School session directly through BHS Optima — again, on the same device they use for everything else at work.
Contact the BHS Technical Support Group directly. Enjoy one-click calls, chats, and email contact to the BHS 24-hour technical support hotline.
Learn about new BHS products on the go. The Sales Resources available on BHS Optima can be helpful for end-users, as well. While these materials were designed for dealers, they offer a first-hand look at the latest BHS products and solutions as they develop.
Brush up on industry education. In addition to the interactive resources listed above, BHS Optima users can access the latest blog posts and reports from the experts. Find out what's new in the industry — and with BHS, Inc. — without leaving your office or the factory floor.
The BHS Optima app is designed for easy flow, no matter the industry. BHS Inc. produces three product families: Battery Handling Equipment, Material Handling Equipment, and Electrical Equipment for contractors and supply houses.
Choose one of these three paths for access to all the resources and tools matching your industry. To learn more about BHS Optima, download the app here, and enjoy your exploration.