Market forces have aligned to create rising construction material prices, and electrical contractors in the industry are faced with a dilemma: Do they pass those prices onto builders, and, ultimately, the customer? Or do they take the hit themselves?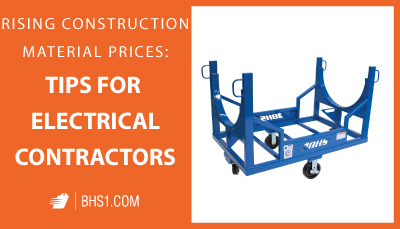 A handful of trends combine to create these price increases. There are the tariffs on steel and aluminum, of course. New tariffs on imported finished goods are also playing their part in making electrical installations more costly. Rising freight prices add fuel to the fire.
According to the trade publication Electrical Marketing's Electrical Price Index, costs of electrical materials began to rise in the summer of 2018, jumping 3 percent year-over-year in June and July. As prices continue to affect contractors well into 2019, there are a few things electrical firms can do to keep their bids low without slashing their margins too much. Here are just a few of them:
Protect supplies with dedicated storage and handling equipment.

The more you pay for electrical materials, the more important it is to prevent product loss. Take metal conduit, for instance. Steel tariffs are likely to pump up the price of this material. Prevent damage to supplies at the job site with steel Conduit Carrier Carts, which protect conduit while simplifying handling in the field.
Similarly, protect investments in light fixtures with a Light Fixture Cart. These steel, powder-coated mobile racks feature vinyl edging and steel lock bars to keep product safe during transport and handling.

Absorb costs by investing in productivity-boosting devices.

Electrical material carts can also improve productivity, allowing electricians to carry bulk loads of cable, wire, and other supplies quickly and with a reduced risk of musculoskeletal injury. By empowering existing staff to accomplish workplace tasks more efficiently, these material-handling solutions help to keep down labor costs. These savings can help to absorb the rising costs of materials and finished goods, preserving contractor margins even as prices increase.

Follow the pricing changes in the market; often, suppliers raise prices on noncompetitive technologies.

As of fall 2018, manufacturers have started to change pricing schedules on legacy technologies in order to compete on newer, more sought-after products. Multiple lighting suppliers boosted the price of older styles of lighting, such as fluorescents, in order to provide more attractive price tags on LED lights. Note that newer LED light panels mirror the dimensions of older fixtures, allowing contractors to use Light Fixture Carts on either class of product.
Many of these price increases are already affecting the industry. According to reporting from trade magazine Electrical Wholesaling, in May 2018, one manufacturer of steel conduit raised the cost of channel by 10 percent. They raised prices by another 9 percent in June, and yet another 12 percent in July.
If this is any indication of an ongoing trend, contractors will have to find ways to place competitive bids without reducing profitability. Electrical material handling equipment can go a long way toward making up the difference, both through productivity increases and greater protection for construction materials that are reaching new heights of value.
References:
Fullmer, Hannah. "Material and Construction Costs Up; Tariffs Likely to Spur More Increases." ECMag. Electrical Contractor Magazine, June 2018. Web. 24 Sept. 2018.
"July Electrical Price Index Shows Little Change." ElectricalMarketing. Informa USA, Inc., 24 Aug. 2018. Web. 24 Sept. 2018.
Lucy, Jim. "When Prices Rise." EWWeb. Informa USA, Inc., 4 Sept. 2018. Web. 24 Sept. 2018.