Oct. 5, 2018 — St. Louis, MO — BHS Inc., a leading provider of material handling equipment for a variety of industries, recently celebrated the 30-year employment anniversary of the company's Technical Support Coordinator, Ken Schwyhart.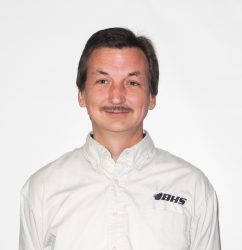 Schwyhart has worked in virtually every position at the company since 1988, stretching back to his first stint as an office assistant. Schwyhart was a senior in high school when he picked up a part-time job with the manufacturer, which, in those days, largely focused on providing the heavy-duty equipment required to handle forklift batteries.
"I started as a part-time office boy, basically," Schwyhart said. "They eventually ran out of jobs for me to do in the office."
So Schwyhart crossed the yard, from the office to the shop. Over his years in a variety of manufacturing positions, Schwyhart learned the details of BHS products from the inside out.
"I started out making rollers," Schwyhart said. "Gradually I went from there up through assembly of all the different products, into shipping and receiving and quality control, and ended up at my desk now."
In his current position, Schwyhart operates in a senior customer service role, overseeing the always-open BHS Technical Support Department, which dealers and end-users can access 24 hours a day.
"I handle troubleshooting phone calls, warranties, returns, parts requests, order processing, and various other things as asked," Schwyhart said. "Since I've been here as long as I have and done as many different things as I have, I'm kind of a company-wide resource."
After three decades, what is it about the job that inspires Schwyhart to stick around for a fourth? The same thing that kept him with BHS back in the good old days on the manufacturing floor, he said.
"When I was working out in the shop, it wasn't really like work," Schwyhart said. "It was like hanging out with my buddies for 10 hours a day and we were just doing work while we were here. And it's still kind of that way."
Meanwhile, customers appreciate direct access to a proven expert with more than 30 years of experience. That's a rare level of technical support and customer service, Schwyhart said.