BHS, Inc., a leading name in battery handling equipment designed for the electric forklift market, now offers a solution for a common industry challenge: broken lead rollers in battery storage stands.
The BHS Lead Roller Replacement Kit is a bolt-in assembly including a solid poly roller on a ¾" solid steel shaft. The replacement kit is a simple, durable, and long-term solution to broken lead rollers on competitors' stands.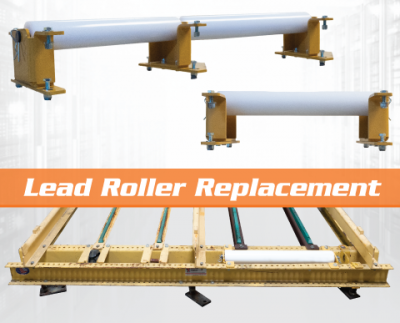 "Due to the additional force required to move batteries across the broken lead rollers the changeout process slows down and can result in damage to the batteries and equipment," said Ken Schwyhart of BHS Technical Support. "The Lead Roller Replacement Kit offers not only a repair for the broken roller, but a significant improvement."
The MTC Adjust-A-Rack systems utilize a wheel-style phenolic roller to transition batteries from the extractor onto the slide strips of storage locations. If not perfectly aligned, batteries being transferred from the extractor can strike the lead wheels with great force, causing damage to the wheel. Many of the wheels become damaged, resulting in rough transitions to the slides, or broken completely, resulting in additional damage and forces on equipment.
The BHS Lead Roller Replacement Kit utilizes a high density poly roller, which spans the full length of the compartment and is designed to stand up to the impacts that will inevitably occur. The poly rollers are maintenance free and highly durable for years of trouble-free use.
These BHS lead rollers are built with the understanding that not every battery change will be a perfectly smooth and aligned transition.
"Storage racks require a roller that can take a beating," Schwyhart said. "That roller is the BHS Lead Roller Replacement Kit."
*Disclaimer: BHS is not affiliated with Materials Transportation Company (MTC) and MTC does not endorse or sponsor BHS or BHS products.